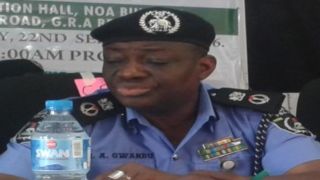 At least 16 students of state-owned Ambrose Alli University, Ekpoma, Edo State have been beheaded in the ongoing cult war ravaging Edo State.
The statistics was released by the Police Commissioner, Haliru Gwandu.
Gwandu told newsmen in Benin City that 61 suspects such as armed robbers, kidnappers, cultists and rapists were arrested in the last three weeks.
Gwandu pointed out that 17 suspected cultists had been arrested with assorted arms.
The commissioner added that at least 16 students in the institution had been beheaded during a recent cult war.
He said senior lecturers of the university found to be aiding and abetting cult activities would not go free.
Gwandu promised that his command would continue its zero tolerance on crime in parts of the state.
He said: "The university community made a call that cult groups were killing and they killed so many.
"At a point two were killed.
"At a point, they went to inspect a site, they (the police) discovered more than 14 beheaded students at that particular time.
"There were some senior lecturers who were arrested with firearms.
"We are going to arrest those who have been mentioned and those who are real cultists and charge them to court.
"My anti-cultism unit was there on a distress call on the 17th day of March 2017.
"There was a notorious fight between cult groups and incidentally, two students were beheaded.
"We dispatched Anti-Cultism Unit to assist the division.
"Having gone there, we were given an intelligence report that one of those who was arrested initially and taken to prison was sighted around the school.
"The Anti-Cultism Unit went into action; the name of the person they sighted was Dennis Agidi.
"Some of his mates were in prison, but he was sighted outside and he was seen in a meeting with other cult members."
But the Deputy Registrar, Information/Public Relations Officer of the university, Edward Aihevba, described the statements credited to the Commissioner of Police "as totally false and embarrassing".
Aihevba said the management of the institution is horrified by the false news story making the rounds in the print, electronic and social media, credited to the Edo State Commissioner of Police, that three lecturers of the university have been arrested for alleged cult-related activities.
He said: "We hereby state unequivocally that Ambrose Alli University has had no issue of cult-related activities since the inception of the administration of Prof. Ignatius Onimawo and his management team.
"There has been no report from the Police Force or any individual or groups for that matter concerning any incident of cultism or cult-related activities.
"The Police Commissioner and his team could not have arrested any staff of the university or found 14 students dead and not make a report, formal or informal, to the authorities of Ambrose Alli University.
"The Police Commissioner, by his pronouncement, has opened the way for damaging and libellous display of falsehood in the social media.
"The university management hereby enjoins students of Ambrose Alli University to disregard this false, distressing and embarrassing report in the media, fuelled by officers of the law…
"We hereby demand that the Edo State Police Commissioner retracts his statement and apologise to Ambrose Alli University, Ekpoma within 48 hours, failing which the university will not hesitate to institute legal proceedings.
Copyright The Eagle Online.
Permission to use quotations from this article is granted subject to appropriate credit being given to www.theeagleonline.com.ng as the source.