BY ANAYO OKOLI
UMUAHIA—THE people of Etiti-Ohazu autonomous community in Aba South Local Government Area of Abia State have lamented the condition of roads in the area and called on the Federal and State Governments to come to their rescue by fixing them.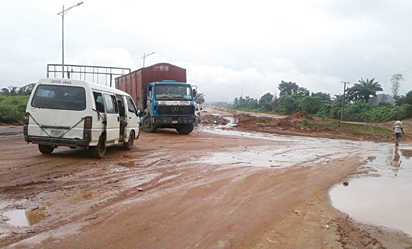 Traditional ruler of the community, HRH Eze Ishmael Nnakwu, said, "Obohia road has been impassable for over 15 years; in short IT is up to twenty years. Flood and erosion have made Obohia road so impassable, that we are experiencing a lot of epidemics particularly malaria all over the place.
"We have made efforts to reach the State Emergency Management Agency, SEMA, who in turn involved the National Emergency Management Agency, NEMA. They came and gave us some relief but we are still passing through our ordeal.
We are calling on the Federal and State Governments to repair Obohia road, give it a very important attention, such that the road will be constructed with standard gutters to take these flood to the nearby borrow pits.
"If it is not done, we will continue to suffer, and I know we all voted and will continue to vote, provided our environment is okay. The floods from all the adjoining streets of Aba are coming down to Obohia road. So we are in trouble. We call on the Federal and State government to assist us, to alleviate our sufferings."