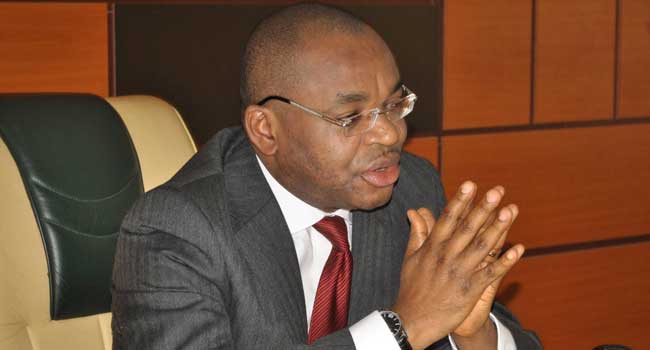 As part of efforts to boost citizens' participation in the 2019 General elections, Akwa Ibom state governor, Udom Emmanuel has tasked the Independent National Electoral Commission (INEC) to expand the locations of the Continuous Voter Registration to accommodate residents of riverine and other remote areas of Akwa Ibom State.
Governor Emmanuel who made the call when he hosted the State Resident Electoral Commissioner, Mr. Mike Igini, at Government House, Uyo,was confident that the expansion would ensure that those who may have lacked interest in the exercise due to the distance of registration venues from their locations, are accommodated.
The Governor noted that the concentration of the registration at Local Council Headquarters, has made it impossible for a large number of persons in areas far from the locations, to participate in the process, adding that it is pertinent for INEC to ensure accessibility of registration centres to enable potential voters validate their right.
He further urged the electoral body to increase the number of registration machines and generating sets to facilitate smooth operations at the various centres, and assured that his administration was ready to partner Federal Government agencies in achieving accountability in electoral matters.
The governor urged INEC to collaborate and maintain effective cooperation with the leadership of States and relevant political organizations, stressing that such synergy does not erode the independence of the Commission in the discharge of their duties.
The Resident Electoral Commissioner, Mr. Mike Igini said that the strategy for credible elections in 2019 had already commenced with the first and second phases of the Continuous Voter Registration exercise, hinting that the third phase would commence by next week.
Mr. Igini, said that the visit was to formally intimate the leadership of the state on his assumption of official duties in Akwa Ibom, since September.
He also spoke of his intentions to chart a purpose-driven course for the State INEC under his leadership, describing Akwa Ibom as a leading state in the annals of INEC success in previous electoral decisions for the country.
Assuring of strict compliance to the electoral rules in the upcoming elections, the State INEC Commissioner said that in view of the 476 days remaining before the 2019 elections, the State electoral body has taken steps to provide a level playing ground during the process, acknowledging that he has held meetings with the political parties and related organizations to ensure success.
He announced that in addition to the 31 centres in the Local Council headquarters, INEC has created another eight centres for registration of people of voting age and solicited for the state government support in sensitizing the publ