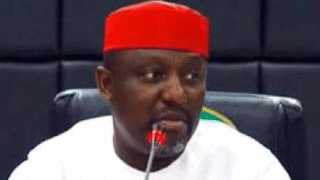 An Owerri High Court on Wednesday reinstated Eze Cletus Ilomuanya, the traditional ruler of Obinugwu autonomous community in Orlu Local Government Area, who was deposed by the Imo State Government.
The court also declared that the purported withdrawal of Ilomuanya's certificate of recognition and staff of office by Governor Rochas Okorocha on June 6, 2014 was "illegal, unconstitutional, null and void".
The News Agency of Nigeria reports that since 2011, Eze Ilomuanya had won nine legal cases against the Imo State Government.
Justice Theresa Chikeka, in the ruling, frowned at Okorocha's conduct in claiming that he had dethroned the monarch vide a press release signed by the then Secretary to the State Government, Prof. Anthony Anwukah.
Anwukah is the current Minister of State (Education).
The judge said the government breached Law No 6 of 2006 and violated various court judgments, restraining the governor or his assignees from doing anything that would truncate Ilomuanya's tenure as Chairman of Imo State Traditional Rulers Council.
Chikeka said: "Such release by the Secretary to the State Government was not a lawful instrument of authority and therefore null and void as it violates the express provisions of Law No. 6 of 2006."
She noted that the defence put up by Okorocha's counsel, Chief Eddy Onyema, was alien to Nigeria's rules.
The court noted that in spite issuing an order on June 4, 2014, ordering that parties allow pending appeal at the Supreme Court, the governor and his Attorney General, two days later, violated the said directive.
Chikeka said: "The actions of the governor contravened Section 36 of the 1999 Constitution.
"Similarly, Sections 13 and 14 (1) of Law No. 6 of 2006 provide conditions precedent in Section 14 (1) (a-h), before the governor can exercise his powers.
"It was wrong for the governor to have acted as he did when the Court of Appeal judgment of July 5, 2013 was still subsisting.
"The entire objections of the governor are misconceptions of Law."
Reacting to the judgment, Miletus Nlemedum, the Attorney General and Commissioner for Justice, said the state would appeal the judgment.
According to the commissioner: "This is a miscarriage of justice and we will appeal the ruling."
Copyright The Eagle Online.
Permission to use quotations from this article is granted subject to appropriate credit being given to www.theeagleonline.com.ng as the source.