By Alemma-Ozioruva Aliu
BENIN CITY – EDO state chapter the All Progressives Congress (APC) Saturday denied allegations making the round that the leadership of the party in agreement with Governor Godwin Obaseki has endorsed some aspirants contesting for Nation Assembly and state House of Assembly.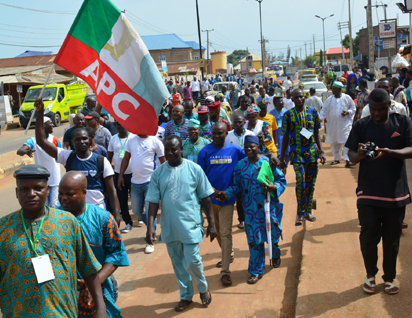 According to a statement by the State Secretary of the party, Lawrence Okah it's position was that there would be primaries when more than one person indicates interest in a position.
"It is notified for the information of all Political Aspirants and Party members, that the State Chapter of the All Progressives Congress (APC) has not adopted any candidate in any of the elections, whether Senate, House of Representatives or the State House of Assembly.
"The position of the State Chapter of the APC is that, where there is an interest in more than one aspirant, such aspirants would be subjected to Primaries."
There have been anxiety of reports of endorsement which degenerated to threats of defection, a development that necessitated a meeting in Abuja between the governor and the National Chairman of the party,Comrade Adams Oshiomhole.
In Edo south some very popular aspirants to state House of Assembly were suddenly being told to drop their ambition for less popular ones who cannot win votes for the party and some unpopular ones being encouraged to contest for higher offices like the House of Representatives.