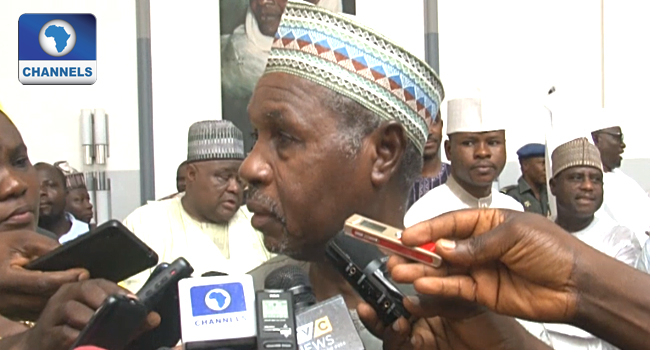 The Katsina State Governor, Aminu Bello Masari has stated that history has shown that people of the South-South have remained political allies of people in the North.
Governor Masari made this known when he was accompanied by the Akwa Ibom state Governor, Udom Emmanuel to pay homage on the Emir of Katsina, Alhaji Abdulmummini Kabir Usman at his palace in Katsina.
The Governor explains that it was, therefore, no sheer coincidence that the two States were created on the same day, adding that 30 years after, the two States have accounted for themselves well in terms of development.
Masari while introducing the visiting Akwa Ibom State Government to the emirate council tells the Emir that the governor was back in Katsina as protocols cut short his visit last week as he had to return to receive the Vice President who was visiting Akwa Ibom state then.
In a remark, the visiting Akwa Ibom State Governor, Mr. Udom Gabriel Emmanuel expressed excitement marking the anniversary of his state the same time with Katsina.
The Governor commended the Emir for sending him a gift of polo attires last week assured that the polo trophy presented to him would be officially tabled before the Akwa Ibom state executive council meeting for recognition by the government and people of Akwa Ibom state.
Mr. Udom while expressing appreciation to the Emir for the true sense of leadership he demonstrated when he said he would defend the Igbos with his blood recently, suggests intermarriages between sons and daughters of the two States to build a bond, stressing that no man determined where he is born but God.
Responding, the Emir, Alhaji Abdulmummini Kabir Usman spoke at length in Hausa terms on the need for unity in diversity, assuring that as a royal father, he would do everything possible to protect Nigerians residing in the Emirate.
The highlight of the visit was the roll of honour presented to the Emir by the Akwa Ibom state Governor and in return, the Emir presented Katsina traditional regalia to the visiting Akwa Ibom state Governor.