Speaker locks out lawmakers, appoints new leaders
By Chinonso Alozie
OWERRI—THE unending drama from the Imo State House of Assembly, yesterday, took another dimension with a two weeks suspension handed over to principal officers of the House.
This was coming after a failed budget presentation by the governor of the state, Rochas Okorocha, where the lawmakers were said to have requested for a formal report on past budget performance from the governor.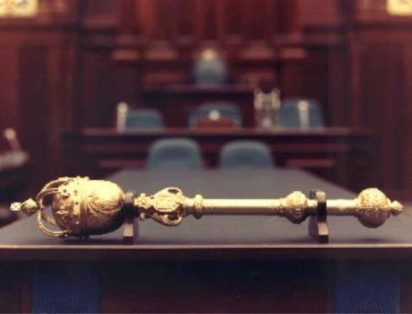 The drama started with a meeting held at the Speaker's lodge, along Port-Harcourt road, Owerri, which was said to have lasted not less than an hour.
After the meeting, the Speaker and his loyalists, thirteen in number, rushed down to the Assembly.  After they entered the chamber, others were   locked out.
As the sitting was going on, out of the 27 lawmakers, Vanguard spotted about fourteen lawmakers at the gallery observing the plenary session.
The sitting presided over by the Speaker, Mr. Acho Ihim, announced a letter said to have been submitted to him by the All Progressives Congress, APC, Imo State, for the withdrawal of the principal officers and also a resignation letter from the said officers.
The affected lawmakers were the majority leader of the House, Mr. Lugard Osuji, Deputy Majority leader, Kennedy Ibeh and the Chief whip of the House, Mr. Marcel Odunze.
He  therefore announced  Mr. Uche Oguwuike, as the new majority leader, Chinedu Offor as Deputy minority leader and Arthur Egwim as Chief Whip of the House.
The Speaker also announced a committee, to be headed by the Deputy Speaker, Ugonna Ozuigbo, on the suspension of the members and to report back to the House on  12th of December.
But speaking to Vanguard Osuiji said: I resigned on personal conviction for the good of the House."
However, some of the lawmakers who confided in Vanguard said that "With the way the Speaker was going about the 2018 budget, Imo people should hold him responsible when the time comes to give account. We have done our best.
"The speaker is only protecting his position and he forgets that  it is not about him alone, it is about Imo people.
"Is it wrong to ask the governor to present a report of three years budget performance?  Tomorrow  you people will say that we are rubber stamp lawmakers but  it is not true."
"You can see what has happened, while are you suspending your colleagues, and asking them to resign their position under duress. Tell the world the offence these men have committed. Does it mean that, the position of a speaker is bigger that the general interest of Imo people."