Ifeanyi Dike, suspected killer of Victory Mezu, an eight-year-old child in Port Harcourt, Rivers state capital, has been rearrested.
Dike, who was caught while trying to dispose of the body of the victim, escaped from the state criminal investigative department where he was detained after his nefarious act was exposed.
A student of Physics at the University of Port Harcourt, Dike was said to have defiled his victim before murdering her.
His escape had embarrassed the police which launched a manhunt for his rearrest and also placed a bounty of N1 million on the suspect.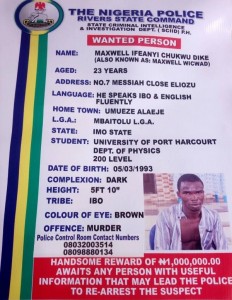 Johnbosco Okoroeze, the investing police officer (IPO) in charge of the case, sergeant, was dismissed from the force over the escape of Dike.
After his dismissal, Okoroeze was arraigned at a magistrate's court in Port Harcourt, on a two-count charge of aiding the escape of the ritualist and assisting the murder suspect to pervert justice.
But on Friday, the Rivers state police command confirmed that the suspect had been arrested in Jos, Plateau state capital.
"He was re-arrested yesterday night in Jos, the police will call a press briefing on the matter later," Nnamdi Omoni, spokesman of the Rivers police command, told TheCable.