Lack of proper infrastructure force students of a village in Odisha to cross a river every day to reach school.  With the absence of proper connectivity or bridge in Mayurbhanj district, students have nothing left but to walk through the river to get on to the other side. In a video tweeted by ANI, students can be seen walking carefully minding each step for the fear of slipping, while water flows with force. The children can be seen holding their books and bag in the hand above while crossing. Once on the other side, the students then help their friends climb up.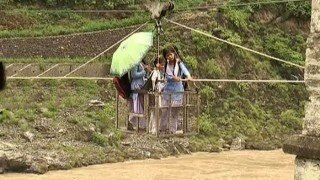 This is not the first time young children in the country cross rivers and lakes to reach school on time. In 2014, reportedly 100 students swam across a river in Gujarat every day to reach school. Around 16 children from Narmada district in the state used to swim across the 600 metre wide River Hiran and then walk for five kilometres to reach the Utavadi Village to get education. In a similar incident in August 2017, students in Jharkhand's Latehar crossed a river which had been flowing with a high current to reach school.
Here is the video:
#WATCH: Students cross a river in Bangriposi block of #Odisha's Mayurbhanj to reach school, in absence of connectivity to the other village pic.twitter.com/EhJE86vO8b

— ANI (@ANI) November 22, 2017
In 2016 during incessant rains and flooding in Uttarakhand, students used ropes and trolley to cross a river to return home from school. School children were seen crossing flooded Alakananda river in a trolley. In another incident, a pregnant woman was carried across a river in Odisha's Rayagada district after ambulance did not reach on time.